TSA PreCheck & Global Entry Make Traveling Easier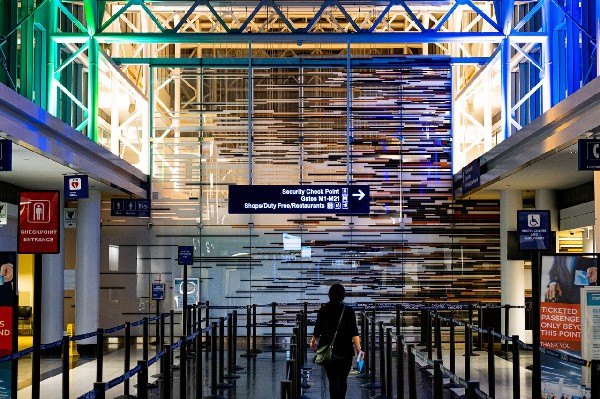 Imagine breezing through airport security without needing to remove your shoes, belt, light jacket, laptop or 3-1-1 liquids from your carry-on bag. Or returning from a long overseas flight back to the U.S. and not having to wait in an impossibly long Customs line. It's not far-fetched when you sign up for TSA PreCheck and Global Entry.
What is TSA PreCheck?
The Transportation Security Administration (TSA) PreCheck program makes your travel experience easier by allowing low-risk travelers to enjoy a more convenient and efficient screening experience. We've all waited in nightmarishly long security lines--wait times can be
nearly an hour
--worrying that we'll miss our flight. With PreCheck, you get in and out faster while being able to keep your clothes on! That's a win-win, especially when traveling with young children.
How to Apply
Applying for TSA PreCheck is simple. The first step is to submit an online application through the Department of Homeland Security
website
to be pre-approved. You will then be prompted to participate in a 10-minute long in-person appointment that includes a complete background check, along with fingerprinting. You will receive written notification within two to three weeks after your appointment.
Once enrolled, you'll get a "known traveler number," which you will need to provide when booking any airline ticket to use your TSA PreCheck privileges. Your boarding pass will also be marked with the TSA PreCheck logo every time you fly. Look for the security checkpoints marked with TSA PreCheck signage when you're at the airport.
The cost of TSA PreCheck is $85 and is good for five years.
What is Global Entry?
Another program making traveling easier is the U.S. Customs and Border Protection (CBP) program, known as Global Entry. This program allows for expedited clearance for pre-approved, low-risk travelers, upon their arrival to the U.S., and makes you feel as though you are a VIP, or at the least a "trusted" traveler. In addition, it includes TSA PreCheck membership.
How to Apply
As with the TSA PreCheck program. Global Entry also requires approval; all applicants must submit an
online application
, agree to a detailed background check, in addition to an in-person interview. To be eligible, you must be a U.S. citizen, a U.S. lawful permanent resident, or a citizen of one of the following countries: Argentina, India, Colombia, United Kingdom. Germany, Panama, Singapore, South Korea, Switzerland, Taiwan, or Mexican nationals.
To use Global Entry, members must enter into the United States via automatic kiosks that are available at
selected airports
. You will then present your machine-readable passport (or U.S. permanent resident card), place your fingerprints on the scanner for fingerprint verification, and complete a customs declaration. Next, you'll be issued a transaction receipt and head to baggage claim before exiting.
Membership is $100 and is good for five years as well.
The perks for PreCheck and Global Entry seem to have no downside. Take some time to do your research and talk to friends and colleagues you know who carry these services. The more often you travel, the more likely these services will benefit you.
Feb 20, 2020
by